Stretch Fitted Table Cloth
Ultra Vibrant Printing

No standard colours here! All of our products are printed in full colour with colour lock inks.

100% Free Artwork Design

Why do it yourself? Leave the hard work to our design team 100% free of charge.

Rush Service: 7 Days

Optional rush production and rapid air express delivery to your door is available on this product.
When you think of advertising, what comes to mind? If you are like many, you imagine printed materials or even social media. We are here to tell you that if you are attending a tradeshow, expo or festival, you are missing the largest piece of advertising available to you: your table. We can help you turn your table into the largest advertisement space in your booth. You will bring extra attention to your brand with a vibrant stretch printed table cloth from EventDisplay.com.au.
Here are just some of the benefits of our product:
Oxford polyester material
Unlimited vibrant colours
Custom sizes available to suit any table or desk
Double stitched construction
Uniquely designed for every customer
Long-lasting print
Free design service
If you are looking for a way to stand out from the competition at your next event, order our fitted table cloth today. Full-colour printing and a vibrant design mean that your table cloth will exceed your expectations while turning heads.
Sizes & Fittings
Most printed table cloths are designed to suite a 6-or 8-foot table. However, we can if required produce a table cloth to suit any table size you require. Our standard table cloth sizes are designed to suit most fold out trestle tables available from hardware stores and camping stores. If you do require a custom size table cloth then please see our measuring guide below, or if you just want to be sure that your table cloth will fit then we always recommend measuring your table first.
The depth of your table top, measure edge to edge
The length of your table top, measure edge to edge
The height or drop of your table, please note our table cloths are designed to completely cover the legs of the table. So if you require a shorter drop or a custom drop please tell us your required dimensions.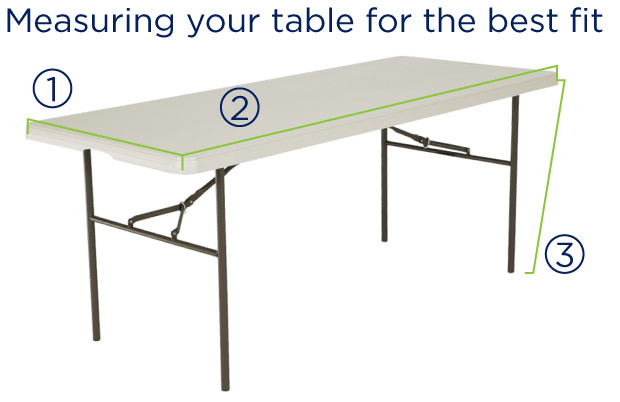 Description
Premium 180d Oxford polyester material
Designed to last, featuring double stitching and reinforced seems. We can manufacture these table cloths from any material you require however our 180d oxford material is an extremely tough, durable fabric which is washable and will stand up to commercial use.
Made to your requirements
Full table cloths, 3 side table cloths, zip in panels for stowing items under your trestle. It can all be done, our range of table cloths are completely customisable to your requirements because each and every item is produced from scratch according to your requirements.
Highly durable, long lasting print
All of our table coverings are printed in Italian colour lock inks, which are fade resistant and are guaranteed to faithfully reproduce your company colours and branding to a very very high standard.

How to order?
GET A FAST QUOTE
Enter your details and get our best price emailed in minutes! 100% Obligation free.