What if your company threw a party and nobody came?
That's what it sometimes feels like at a trade show. You may spend lots of time and effort to create an awesome booth only to see everyone walk by and ignore you.
Here's the good news: that will never happen again! That's because we're giving you the ultimate guide to boosting brand visibility at your next expo.
Keep reading to unlock the secrets!
Hell of a Vision
Here's the blunt truth: people make their minds up about your booth as soon as they see it. It only takes a second for them to determine whether they are interested in what you have to offer.
Your job is to make the most out of that second. And that includes putting a lot of thought and effort into your booth design!
We have several ideas below for how to take your booth to the next level. The most important thing is to develop a vision for your booth ahead of time so when you start setting up, you can hit the ground running.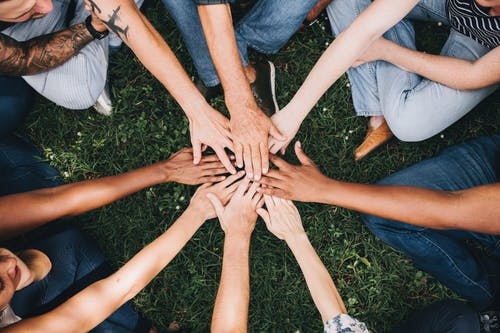 Bring Your Dream Team
Which employees are behind the booth are just as important as the booth itself. What you'll really want to do is have your most engaging employees to help engage the crowd.
And contrary to popular opinion, it's not all about extroverts. In fact, your introverts may make better salespeople on the show floor because of their skills at listening to other people.
This is because a trade show isn't just another sales opportunity. It's really an opportunity to boost customer engagement and enhance brand visibility.
To do this well, you need to have a team that establishes an instant relationship with anyone they meet. If they have the "gift of gab," make sure they are behind the booth for your next show.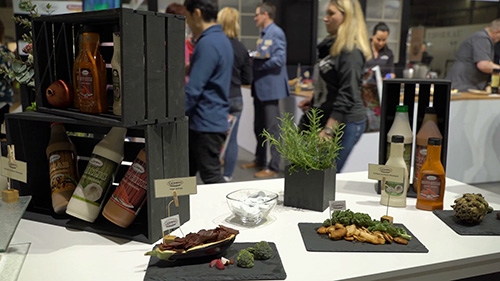 Looking Like a Whole Snack
The math on attracting visitors is simpler than you might think. If you want visitors to come to your booth, then you should offer something they want!
For example, snacks and drinks are always a big hit. If someone's getting hungry, they are much likelier to come to a booth that has some tasty treats.
Not only does food lure people in, but it helps put them at ease. When they are enjoying, say chocolates? or a coffee? (Trade show tip: Get a nespresso pod machine happening) Not only potential clients gravitate towards your caffeinated offering but they will feel more like talking to a stranger and hearing your sales pitch than people who are hangry!
Uniforms On Point
Employees sometimes chafe at wearing a uniform. And this is one of the biggest trade show tips I can offer: at a trade show, it's important for all of your employees to have a uniform look. And that uniform needs to look good!
The "uniform" may be as simple as everyone wearing a branded polo and the same kind of pants. However you do it, such a look ensures that people can identify your company employees right away.
And this is at the core of brand visibility: ensuring people make an instant connection between your colours, logos, slogans, and your brand.
Speaking of connections, make sure that the uniforms match your banners and other table displays to create a synchronised look that attracts the eye.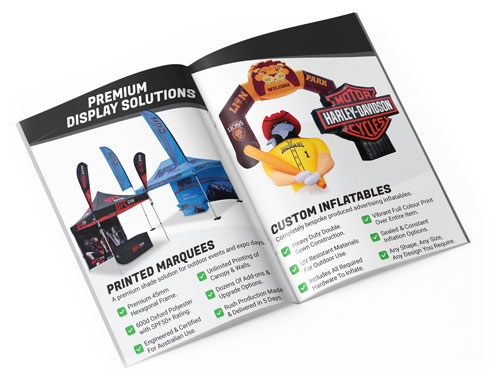 What's the Takeaway?
At the end of the day, everyone loves to get free stuff. Which is why your trade show booth needs to have some fun products to give away.
Things like branded notebooks and pens are practical trade show items that customers can instantly use. And branded t-shirts gives them something comfortable to wear long after the show is over.
Such products offer great short-term and long-term visibility and engagement ROI. In the short-term, they give customers something to use, and anyone who sees your brand on their products is likely to ask about your company.
In the long-term, customers will keep using these items and think fondly on the company who gave it to them. In fact, people keep promotional products for an average of 8 months!
This is far more effective than simply hoping they'll remember your booth.
Product Demonstrations
One of the best things you can do is to create a more interactive display. And the simplest way to do this is to offer product demonstrations.
Customers don't want to simply see your product or hear someone talk about it. Instead, they want to use your product and see it in action.
This creates engagement with individual customers, but it also increases the number of people visiting your booth. This is because of your booth's perceived value.
It works like this: imagine you are new to a town and want to try the best possible restaurant. If you see a place with a huge crowd and long lines, it's natural to assume they are the best.
With cool product demonstrations, you'll create a line of interested people. And that line will help generate more interest, enhancing your visibility and engagement.
Full Experience
Not every company has a product they can easily demonstrate. This is especially true of companies that offer services instead of products.
However, you can still create an interactive booth that generates "buzz" around the trade show. How? By turning it into an experience!
Maybe you run a consulting business. Your booth could feature a snack station in which someone customises the snack of their dreams.
With a bit of humour, your staff can tell them that this represents the fruits of good consultation: coming together to help someone to bring their unique vision to life.
Social Media Solution
To this day, there is no advertisement quite like word of mouth advertisement. However, our primary source for "word of mouth" is now social media.
That's why it's important to encourage social media interaction at the trade show. And there are a few different ways to do this.
The first technique is to set up a social photo booth (more on this in a minute). This encourages people to take branded photos and then share them with all their friends and followers.
You should also create a custom hashtag for the event. Make sure the tag is prominent on your banners and displays to encourage online conversations about your brand.
Finally, have at least one team member monitoring social media throughout the day. They can engage with those who use the hashtag, which helps to show the world how much you care about your customers.
Interactive Display options

Earlier, we talked about the importance of customer interaction. One of the easiest ways to foster customer interaction is by using electronic devices.
For example, you can get some interactive tablet displays and have a tablet at your booth. From there, the possibilities are endless!
At the bare minimum, you can maintain a digital guestbook, And this can let people sign up for e-mail updates from your company with a click of a button.
If you have a company app, customers can use the tablet to give it a test drive. This might be enough to encourage them to download their own copy!
Other options include:
A scrolling slideshow of your products.
Reviews on a carousel (Trustpilot offers a good carousel feature).
Have your website open so people can browse products.
RedsBaby, a 100% online stroller brand even offered purchase facility through shopping cart on a tablet.
Newer tablets have excellent front cameras, great for people to take selfies at your booth.
You can even let them use the tablet to make social media posts on the company account. This encourages engagement while also building trust between company and consumer.
Stretch Displays
We discussed the importance of getting someone's attention right away with your booth. And nothing does that quite as well as a stretch display!
You can buy custom stretch displays that are ready-made for the trade show floor. These displays feature big, bold, and brilliant graphics that instantly capture the eye and build interest.
Such displays are available in a variety of sizes and configurations. No matter how much (or how little) room you have at your booth, there is room for a dazzling stretch display.
Holding Contests
Customers love to receive free items, which is why we love giving away branded merch. But there's one thing they love even more: winning those products instead!
It can be very fun and engaging to create different kinds of contests at your booth. And the winners of these contests should receive your better merchandise, which generates buzz and a fun sense of competition.
Even if you don't have much room, you can set up your own small "wheel of fortune." Let customers spin it and see what prize they end up with.
Once again, bringing people to your booth is a matter of making your booth a great place to be. If you've got fun and games and your competition doesn't, you'll be leaving them in the dust.
Social Photos
It's important to encourage customers to engage with your booth on social media. One way to do this is to set up a "social photo both."
These are branded, decorated booths designed to create entertaining photos. And because the brand is built-in, customers who share the photo are helping you out even if they don't use your hashtag.
It's true that these booths can take up a lot of room. However, they are interactive, build lines, and encourage social media engagement. This makes such booths one of your best interactive display options.
Brand Visibility: The Bottom Line
So there it is, our top expo tips to boost brand visibility at trade shows. But do you know who can help your brand stand out like never before?
Here at Event Display, we specialise in products and services to make your next professional event memorable and engaging. Head to our home page or to see how we can help you capture everyone's attention, check out our free artwork services today!