Going to trade shows is all about expanding your industry presence as much as possible.
Whether you're looking for potential partners or new clients, you have to bring your A-game. Everyone there is competing for the same things as you, which means a custom booth can make all the difference.
Custom trade show booths are easier to spot in large crowds. They grab attention better than the rest, often delivering a top-notch experience from start to finish. Wondering how to upgrade your boring booth to something that will make people stop and pay attention?
Here is the complete guide to making the ultimate booth for your next trade show.
The Best Custom Trade Show Booths Start with a Story
Before you get into all the details, you have to understand what you're trying to create. Custom trade show booths are just as much for a business as they are for its consumers. You have to have a clear set of objectives going into the design. You also have to realize these goals with the customer experience in mind.
Together, these two elements tell a story. Your booth story should go hand in hand with your brand. Make it easy for attendees to understand who you are and what you do. Then, go the extra mile and add something special. The unexpected touch will bring your booth's story to life.
Such a result happens with the use of:
1. Themed Display Elements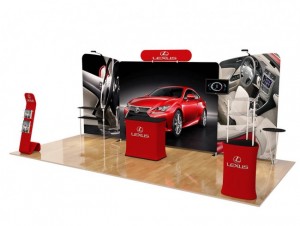 Once you have your ideas in place, turn your booth into your storyboard. Play with different design options that will express what you're trying to say.
For example, if you're a home goods brand, create a booth to be a reflection of a specific room in the house. If you're part of a food niche, have your booth represent the region from which your food is from.
The trick is to think outside the box. Custom trade show booths are more than just a tent and a table. This is your space to create anything you want.
Bring props, create an interesting backdrop, play music – whatever you think represents you well and gets attention, do it. Check your tradeshow guidelines if you're trying to do something particularly special.
2. Hands-On Interaction
Beyond the visual design, add something to your booth that gets people actively involved with your brand. A hands-on element will make you more memorable.
Such interactions work for a multitude of industries:
Coffee roasters can show attendees how they roast and test beans
Interior designers can have fabric samples for people to touch and feel
Automotive engineers can bring parts and components to give their design concepts a tangible reinforcement
Whatever your line of work is, you have a product to show for it. Bring it to your trade show and put it in the hands of consumers. Even if your product is a service, there is something you can do to make it hands-on. Psychologists can go through simple mental exercises. Digitally-based services can host games or contests related to their products.
The possibilities are endless, you just have to be willing to push your creative limits.
3. Staff Participation
Speaking of being willing to do something, don't forget to motivate your staff. Employees are a crucial component of all custom trade show booths.
They aren't there just to smile and give a basic pitch. They are there to cater the experience to every person that comes around. Go back to your theme and think about the role your staff plays in it. Maybe you can have them demonstrate how to use your products.
Maybe you can make the demonstration even more effective with costumes and characters. Costumes aren't just for video games. They can be a representation of your ideal buyer or a futuristic approach to your new technology product. Dressing up is a charming way to make an impression last. With so many booths to compete with at trade shows, this is worth more than you might think.
4. Promotional Items
No matter how much time a person spends interacting with your booth, they will move on at some point. Give them one last token they can take with them. Promotional items keep you fresh in someone's mind as they walk around the room and spend more days at the event. It can be the tool that makes them remember all the fun they had at your booth, which can turn into future interactions.
There are many different kinds of promotional tools you can use. Some include:
pens
lanyards
buttons and stickers
keychains
cups
flyers and brochures
Whichever items you choose to have at your booth, keep two things in mind.
First, make sure every promotional item is custom-made. It should represent your company with branded colours and your logo. Second, order enough to last you the entire span of the trade show. Try to mix up your items as well and get a few different things. Consider getting some special promotional items as well.
These could be apparel like t-shirts or hats, or maybe even a couple of units of your product. Reserve these items for particularly strong interactions, or use them as prizes for something.
5. Pre-Show Messaging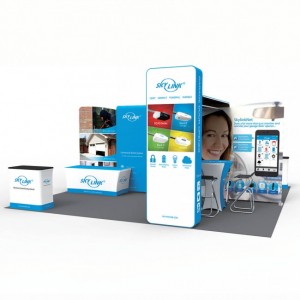 The last component of making a strong custom trade show booth is having an audience. Your booth will do well at driving people to you, thanks to all the unique elements mentioned above. To have the strongest presence possible, you need to market yourself, too.
Start talking about the trade show before you even show up for the event. Send out an email campaign to your leads. Post your excitement on social media. More importantly, have a social team ready to engage online during the event.
The more you send out branded messaging centred around the trade show, the more likely you are to be heard by your audience. This pays off in trade shows of thousands of booths as well as smaller events with just a couple hundred.
Design Your Custom Booth
A custom booth is a great way to promote your brand and products. It will give people a chance to know what you're all about and be great for business.
Do you have a calendar full of trade shows to attend? Show up ready to succeed with a custom booth.
Contact us today to see how we can help you create the ultimate trade show experience.