Full colour printed promotional car shades! Fully made to suit your vehicle type or specific sizing requirements.
We can also make internal car shades to any size if required. This can promote your message while the car is parked.
This is great for all business types, including Motorsport Teams, Car Dealerships, Real Estate Businesses, Non-profit Organisations.
Read More ...
Less
Rush Service
7 Days
Minimum Order
5
Artwork Design
100% Free
Request A Free Quote!
Branding method:
CMYK Full digital printing
Dimensions:
Made to any size
Material:
300d Oxford polyester (Dual layer with foil sandwich layer)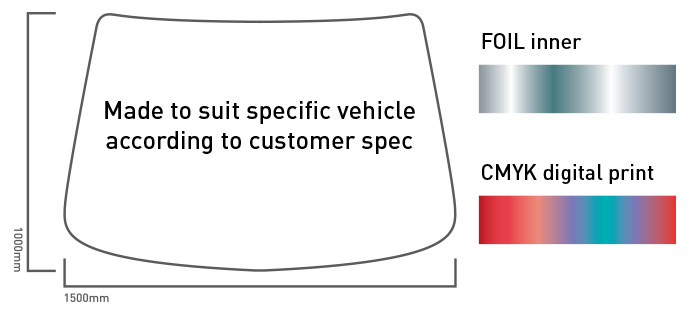 Custom Printed Car Sun Shades
Turn the car's exterior into a stunning advert for your brand.
Want to turn your company vehicle into a mobile advert that's capable of promoting your products as well as those of your sponsors? If you have a vehicle that's used for any business activity, custom printed car sun shades are the ideal solution.
Event Display has helped hundreds of businesses gain increased awareness and conversions through the use of the exterior sun shades. And the simple tool could work wonders for your band too.
Why Choose Exterior Sun Shades?
Traditional sun shades are very functional, and we can print them to use as promotional goods for your clients. However, when it comes to your direct marketing activities, exterior sun shades are the ideal solution.
Custom printed car sun shades that fit to the outside of the windshield can be applied and removed without getting into the vehicle. Moreover, they capture the imagination with a far greater appeal as the vibrant colours will not be lost – as they would if sat behind the glass.
The added aesthetic appeal and function makes them an ideal solution for many situations, and are extremely popular with;
Motorsport teams that need promotion on the grid but can remove the screen just before race time.
Car dealerships wanting to promote a special deal on the vehicle without damaging the body.
Real estate businesses that want to attract passing trade without losing the use of their vehicles.
Non-profit organisations seeking a cheap yet effective way of expressing their brand message.
And many more.
Exterior sun shades are cheap, eye-catching, and have the ability to reach a massive audience. That's a recipe for success in any business's mind.
Premium Quality At Event Display
Event Display takes great pride in providing a range of quality advertising materials, but the exterior vehicle sun shades are among the best. Through the use of CMYK full digital printing, we are able to produce vibrant colours to give your brand the bold designs needed to create the biggest impact. Whether it's a packed race grid or a busy trade show, our custom printed sun shades will get your business noticed.
The 300d Oxford polyester material, which also uses a foil sandwich layer, guarantees excellent durability so that you can get years of service out of those designs. Given that they are placed outside of the car, they are built with the properties needed to withstand various weather elements too.
Our products can be created to the standard windshield size or to any custom dimensions that may be needed for your vehicle. With a minimum order of just 25 pieces and a free design service thrown into the mix, this truly is the perfect way to unlock the marketing potential of your company vehicles.
What Next?
If you're ready to start reaping the rewards of fully customised exterior vehicle car shades, give Event Display a call today on 02 6555 5030. Whether you know exactly what you need or need a little support throughout the process, we'll get your vehicle marketing endeavours up to speed!